Why Choose Our Window Waterproofing In Queens NY?
Comparatively, window replacement is the option that many homeowners are left with after they encounter the worn-out condition of windows at their homes, buildings, or offices. However, waterproofing windows is an affordable option than replacing windows requiring a mammoth budget and extensive days of working in the process. It is not guaranteed if your new window installation will last for years or not but waterproofing windows will do for sure if hired by reliable and experienced window waterproofing contractors Flushing Queens
One of the underlying reasons for the structure of the building deteriorating its quality is negligence and not inspecting the property frequently.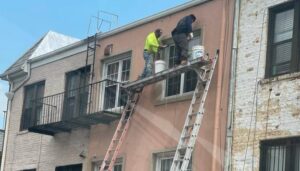 One bad season or inclement weather is enough to exterminate the vulnerable parts of the façade such as balconies, windows, doors, etc. NY Waterproofing Contractor has been catering to the needs of homeowners across NY with its comprehensive window waterproofing services Jamaica NY
Reasons Behind Window Leaks: Hire Professional Window Waterproofing Company Queens NY

You must know the causes why window leaks occur?
Expired, missing, or broken sealant on window joints

Deterioration of rubber gaskets

Improperly angled fascia board right at the top of the window

Use of lousy sealant application with breaks in the flashing

Imperfect preparation and lack of knowledge of a general contractor
We have successfully executed window waterproofing projects with integration of flanges, sill pans, flashing, and caulking, ensuring that penetration of moisture between the walls and windows will be reduced to a large extent. 
As a growing and reputed name in the alleys of NY, we have all kinds of substrates and are fully equipped when it comes to keeping your homes, commercial buildings, and residential complexes unaffected even under the formidable weather conditions. 
Serving Queens NY With Top Window Waterproofing Services

The dilemma is not only of damaged windows, leading to infiltration of water into the walls and concrete but also the interior of the house getting affected by increasing moisture. Window is a large part or acts as a hole inside the house that should be meticulously installed at the onset otherwise over time the problem causes the structure to deteriorate. 
It is unfair on the part of many renowned builders nowadays not installing the windows correctly despite state-of-the-art technology. NY Waterproofing Contractor is immersed in the service to provide unparalleled window repair services Laurelton NY
Our simple process for flawless work entails hiring skilled staff at procurement and picking up the right sealant for each job. Our waterproofing contractor Rosedale NY is skilled and top-notch at safely accessing hard-to-reach windows and waterproofing them professionally. 
Right Window Waterproofing Company NY: For Commercial And Residential Buildings

The redundant alternatives are often adopted by many contractors who don't specialize in the domain and consider stucco or exterior siding a way to prevent water penetration. However, temporary solutions eventually allow water to penetrate as is seen in improper flashed installations that expose the wall cavity to moisture. The persistence of moisture for long leads to mold and rot, ultimately requiring a massive budget for window replacement. 
We are certified, insured, and licensed by governing bodies specialized in water intrusion and install the new flashing system to stop water penetration.

We thoroughly inspect the windows and keep an eye on the underlying causes for window deterioration such as fading paint, mold, stains, etc. We accordingly chalk out plans to permanently put these issues to an end, using quality materials and technology.

We try not to replace the existing window with a new one until and unless the window is beyond repair. Waterproofing the window makes some good upgrades and transforms your window. Our

window waterproofing specialist Forest Hills NY

performs the task carefully to make it look stunning. 
Easy Steps To Waterproof Your Window Perfectly

NY waterproofing contractor provides its clients the right recommendation to address potential water intrusion issues with ease: Our immaculate window waterproofing process involves:
Caulking application

Old sealant removal

Surface preparation
For further details about window waterproofing, feel free to call us right away!